'The Romance of Indian Coffee' has been chosen as the World's Best book on Coffee at the Gourmand World Awards function, held recently at Yantai near Beijing, China. (http://coorgnews.in/featuresnewsmakers/romance-indian-coffee-book-ranked-best-world/)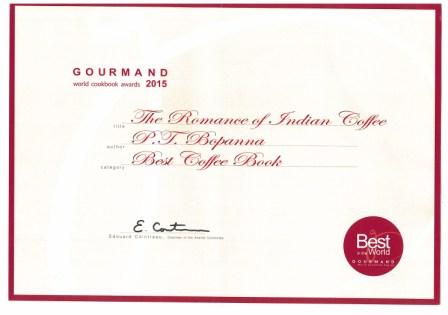 The book 'The Romance of Indian Coffee', authored by senior journalist P.T. Bopanna, offers a 360 degree view of Indian coffee - the fascinating history of coffee, many charming facets of coffee culture, its symbiosis with nature and what makes coffee such a captivating brew.

The book highlights how Indian coffee is unique and stands out in the global market. Unlike the coffee produced in other countries, Indian coffee is totally shade-grown, and is much in demand internationally.

The author has chronicled the contribution of Ivor Bull, the British planter from Coorg, who conceived the idea of the 'pooling system' to save the coffee industry during the Second World War.

For those interested in the variety of ways in which coffee can be prepared, a separate chapter has been devoted in the book on how to prepare a good cup of coffee, especially South Indian filter coffee. Recipes for other interesting and popular coffee concoctions, including recipes for making coffee liqueur have also been included.